Parts of California Will Be Without Power for Nearly a Week
Posted On October 10, 2019
---
Around this time, California burns. The wildfires are atrocious. The damage is severe, along with the loss of life. For residents of this state, they know the drill. Yet, nearly a million people will be without power for almost a week.
This comes as the utility company PG&E was warned that they could face an enormous liability if they continue to keep peoples' lights on due to the wildfire situation. Fifty-eight counties will be impacted. As a result, there have been runs to the local home improvement stores and other establishments for flashlights, batteries, and propane tanks (via Associated Press):
Millions of people were poised to lose electricity throughout northern and central California after Pacific Gas & Electric Co. announced Tuesday it would shut off power in the largest preventive outage in state history to try to avert wildfires caused by faulty lines.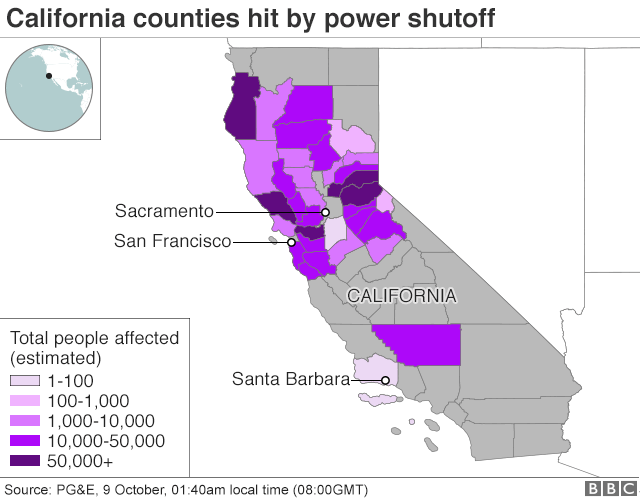 PG&E said it would begin turning off power to 800,000 customers in 34 counties starting after midnight Wednesday amid forecasts of windy, dry weather that create an extreme fire danger. To the south, Southern California Edison also said Tuesday that more than 106,000 of its customers in parts of eight counties could face power cuts.
Outages are planned in more than half of California's 58 counties, although not everyone in those counties will have their power cut.
[…]
Gov. Gavin Newsom said PG&E had no choice given that it would have faced liability for fire damage but he said customers are right to feel outraged. The utility needs to upgrade and fix its equipment so massive outages aren't the norm going forward, he said.
"No one is satisfied with this, no one is happy with this," he said.
The outage will also affect portions of the agricultural Central Valley, the state's northern and central coasts and the Sierra Nevada foothills where a November wildfire blamed on PG&E transmission lines killed 85 people and devastated the town of Paradise.
Jennifer Siemens, who lost her home in Paradise, rents a house in the nearby town of Oroville and said she was bracing for a third blackout in a month.
[…]
San Francisco-based Pacific Gas & Electric sought bankruptcy protection in January, saying it could not afford an estimated $30 billion in potential damages from lawsuits stemming from a recent wildfire. As part of ongoing bankruptcy litigation, last month the company agreed to pay $11 billion to a group of insurance companies representing claimants from deadly Northern California wildfires in 2017 and 2018.
PG&E will preemptively cut power for more than 800,000 customers across 34 counties in Northern California starting just after midnight. Here's what you need to know: https://t.co/athsxUPoH8 pic.twitter.com/KIyeVo1a8P

— San Francisco Chronicle (@sfchronicle) October 9, 2019
Want to know if your power will be turned off? Type your address into our interactive map to see if you're within the flagged zone. https://t.co/aESwD135BP

— San Francisco Chronicle (@sfchronicle) October 9, 2019
So, we have a Venezuelan-like blackout situation coming, except that it's planned. Some are blaming the state's voters, as California paved the way for utility companies to be sued for damages from wildfires. It's just one of the many problems facing the state.
'Their answer to everything is to just shut it off'
PG&E has come under criticism in recent years for the role of its equipment in a series of catastrophic wildfires across the state, including the deadly 2018 Camp Fire. The utility has agreed to pay billions of dollars in damages.
The company warned in February it could proactively cut power more often and to more customers during risky weather conditions as a means of preventing wildfires caused by high winds downing live power equipment.
The plan, critics say, lets PG&E get away with inconveniencing its customers and costing businesses instead of upgrading its infrastructure to prevent fires.
"I'm angry at PG&E," Blair Roman, a PG&E customer who's out of power in Mill Valley. "Most of my friends are angry as well."
"They didn't do what they were supposed to do and keep up with the lines and the power," Roman said. "Their answer to everything is to just shut it off so we can't get blamed for it. It's a major inconvenience, it's going to cost companies billions of dollars. And it all could have been avoided."
State Senator Jim Nielsen, whose district includes Paradise, where 85 died in last year's Camp Fire, said the "massive power shutoff is unacceptable."
"This has to change," Nielsen said in a release. "PG&E's decision to protect itself from liability at the expense of hardworking Californians will not be tolerated. This disregards people's livelihoods. We depend on electricity to live and earn a living."
San Jose officials also said they would prefer that PG&E improve its equipment instead of imposing outages.
"We really want to put pressure on PG&E to make investments in their infrastructure to make it safe and reliable so they won't have to shut down when there are weather events," said deputy city manager Kip Harkness. "And we're talking to them and making that stance known to them," he said.
---
Trending Now