Jaw-Dropping Scenes of Venice Underwater After Historic Flood
Posted On November 13, 2019
---
The mayor of Venice declared a state of emergency as six feet of water swept through the low-lying Italian city, the second-highest flood in the city's history. The surge in water left homes barricaded and streets flooded as residents and tourists waded through knee-high water.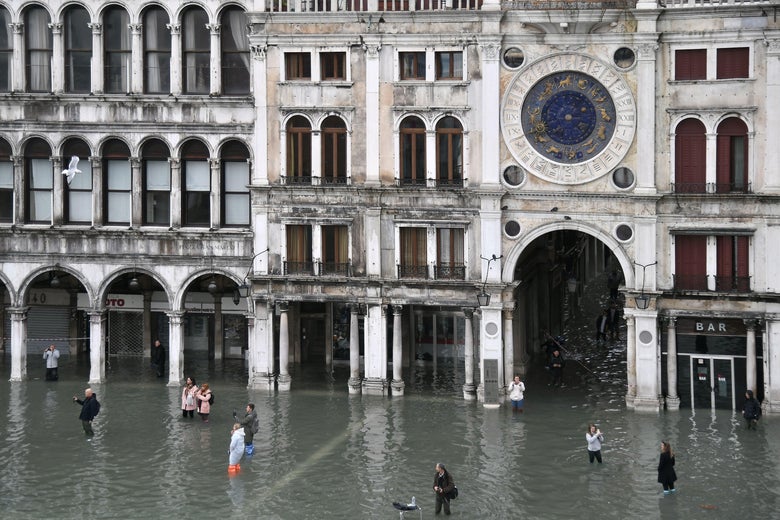 The city's famous Piazza San Marco was flooded by more than three feet of water, according to Italian news agency ANSA, and the water level could rise to as much as five feet.
"Venice is on its knees," the city's mayor said on Twitter Wednesday. Local officials say more water is expected after strong winds combined with high tides due to rainstorms caused the historic flood. The scenes from around the ancient city are jaw-dropping:
Nightmare night in #Venice! The high tide reaches 190 cm and invades the city. Declared a state of calamity. #Venezia #Italy #Weather pic.twitter.com/tp4qmZHUGG

— Marco M.M. (@meteorologo777) November 12, 2019
È un disastro: #AcquaAlta di 1,90 metro – se continua supera l'acqua granda di 1966. Questa è Via XII marzo adesso, vicino a Piazza San Marco. È un incubo.#Hochwasser #HighTide #Venezia pic.twitter.com/Dmwat7j1Mg

— Petra Reski (@PetraReski) November 12, 2019
This is crazy….#Venice #Venezia pic.twitter.com/wLo2RGavIq

— MHMNart (@Moonlight_H_M) November 13, 2019
#Maltempo a #Venezia, nella notte l'acqua alta ha invaso l'hotel Gritti Palace, che si affaccia sul #CanalGrande. Nelle immagini l'acqua che con forza entra nell'albergo spostando mobili e tappeti pic.twitter.com/s6SrKxi4kW

— Sky tg24 (@SkyTG24) November 13, 2019
An elderly man has died in the worst floods to hit Venice in more than 50 years, as local authorities in the Italian lagoon city called for a state of emergency to be imposed.
The unnamed man was killed on Tuesday night while he was trying to run electric pumps at his home on the island of Pellestrina, Alessandro Bertasi, spokesman for Venice's mayor.
The popular tourist destination was struck by an exceptionally high tide on Tuesday night, which peaked at 187 centimeters (73.6 inches), according to a statement by Venice's government Wednesday morning.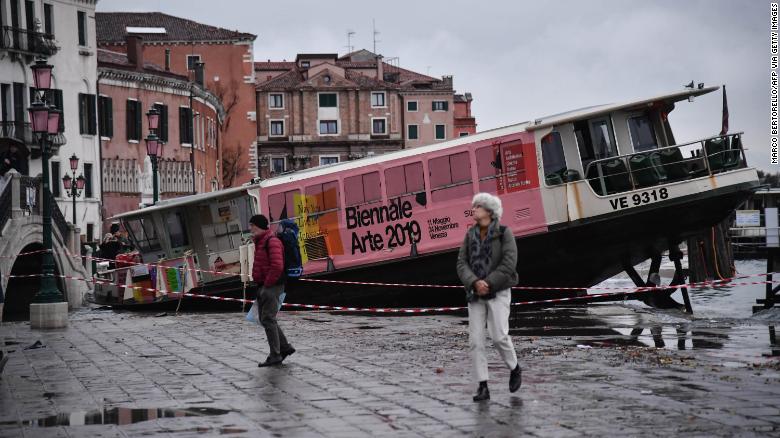 People walk past a stranded taxi boat on Riva degli Schiavoni, after it was washed away during an exceptional overnight high tide, early on Wednesday, November 13.
Venice resident Elisa Aquina Laterza told CNN she lives near the Rialto Bridge. She posted on Twitter a video of sirens that alerted the population about the high tides on Tuesday night.
"Last night after the sirens went off we were without electricity. The windows banged with gusts of strong wind," she said. "It was a night of fear and today we are blocked here at home with reduced public transport."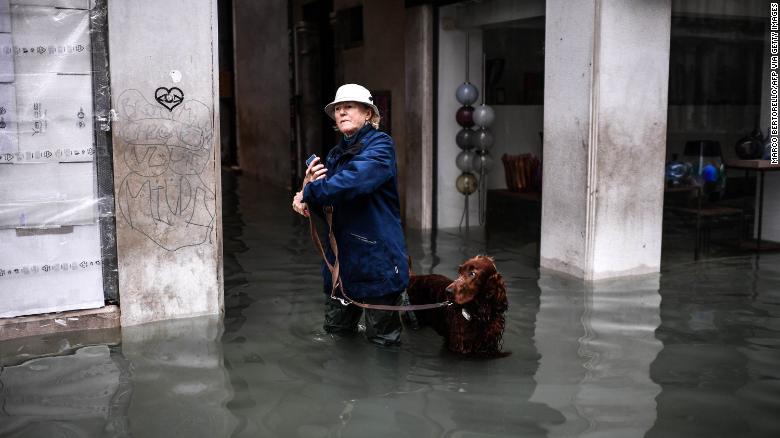 The historic crypt of St. Mark's Basilica was inundated for just the sixth time in 1,200 years.
It is the worst flooding in Venice since 1966, when the city was hit by tides up to 194 cm (76.4 inches) high, according to government statistics.
On Tuesday, the Tide Forecasting and Reporting Center of Civil Protection said that 45% of the city was flooded. Thirty volunteers will be deployed Wednesday to help with the clean-up, it said.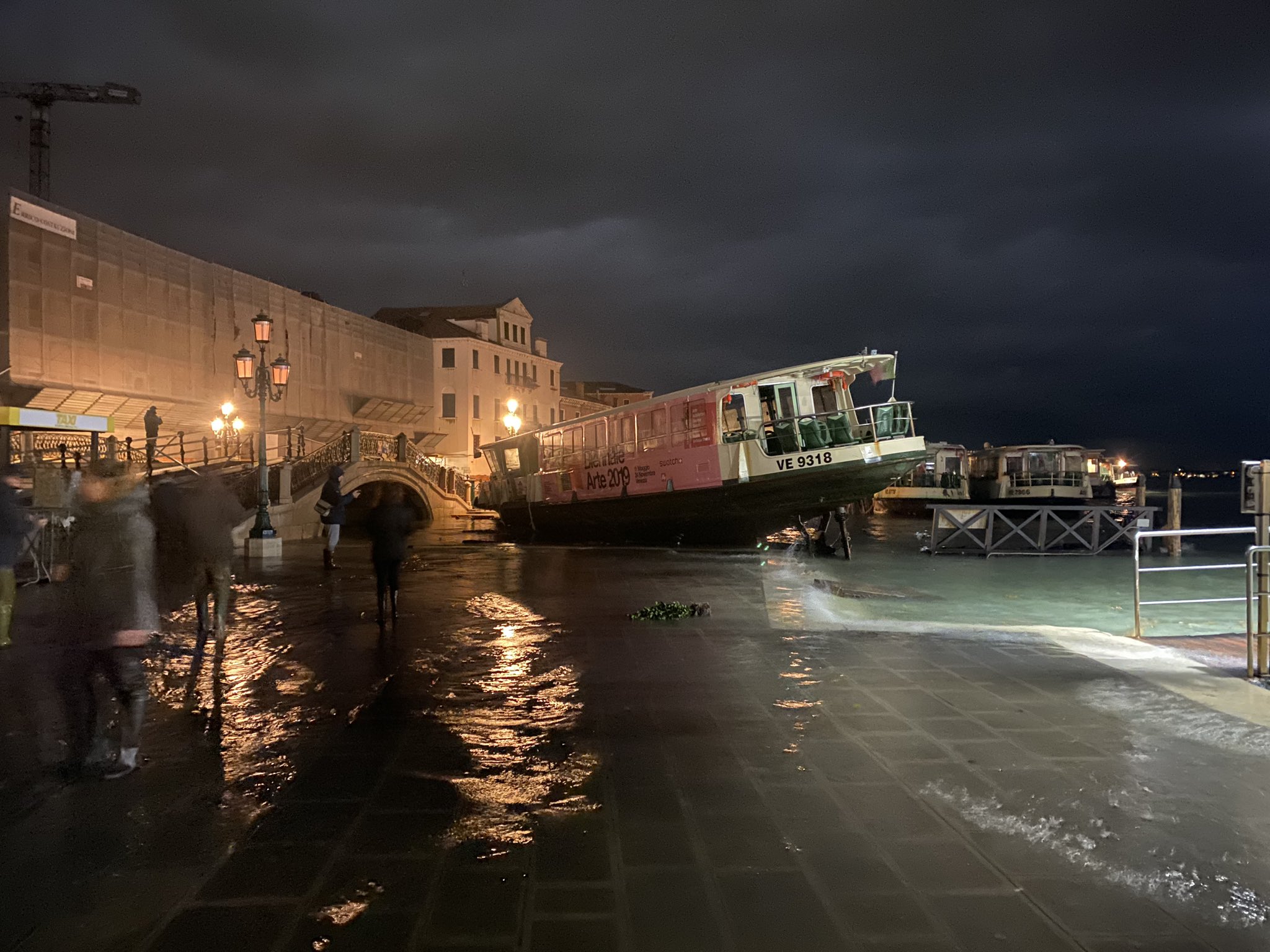 Venice's government announced that after the "extraordinary" tide, it would "submit a request for a state of emergency" to the country's central government. All schools will be closed Wednesday due to the weather conditions, the local government said.
---
Trending Now